1) What is Intooit?
INTOOIT is a kids club in Puerto Banus available for private hire offering the perfect place for your children's next birthday party or special event. Our space specialises in providing an engaging entertainment venue for children between the ages of 3-12. Intooit kids are invited to have fun while exploring our 3 carefully curated play zones, accommodating up to 30 children per party.
2) Where is Intooit located?
INTOOIT is centrally located in Malaga's most distinguished municipality, Marbella, within in the heart of Puerto Banus, the Costa Del Sol's premier destination. We are a stone's throw from the inviting waters of the Mediterranean and walking distance to all the area's A-list shopping.
3) Is there parking?
There are numerous underground parking garages in the immediate vicinity to service INTOOIT's clients, one directly underneath Centro Comercial Cristamar, in which we are located. There is additional underground parking as part of El Corte Ingles, which we are situated next to. With a little luck, you may also find off street parking.
4) How do I book my event?
INTOOIT offers an easy-to-use booking system where you can choose the desired date/time of your planned event from the comfort of your home or mobile device. Simply view the Intooit events calendar to confirm availability, then reserve your booking and block off the desired date/time with a paid deposit. Please note that only confirmed bookings where the deposit has been cleared will appear on the Intooit events calendar.
Deposits are paid to Intooit conveniently using your credit or debit card through a secure payment portal on our Booking page.
5) What does it cost to book my party?
Where other children's party venues may charge per head, private parties at INTOOIT are booked, for your benefit, based on duration. This means you have the freedom to grow your guest list without worrying about it will affect your wallet. Whether you prefer an intimate gathering or a day of extravagance, the Intooit play space is booked at a flat rate. Please see our table of fees for more information.
6) Does my booking include catering?
INTOOIT offers venue space for hire that does not include catering in the price of your reservation. Encouraging creative freedom when it comes to catering is an element of our operations we take pride in, and we have found that parents like to add the special touches that set their party apart without being told what that should look like. While your booking does not include catering services, Intooit is pleased to offer basic catering packages available at an additional cost. We are also happy to recommend an array of businesses to service your event with whom we often work. Please see the Partnerships section of our website for more information.
7) Can I hire additional catering for my event?
Absolutely! INTOOIT offers the perfect space to customise your party or event. From balloon installations to live entertainment and culinary options of every kind, at Intooit you are free to make your occasion as unique as you'd like. You can view a list of businesses we often collaborate with on our website, or you can research other options online. We are happy to accommodate new collaborations upon request.
*If you are a business owner who would like to be added to our partnerships list, please contact us via email Intooitkidsclub@gmail.com.
8) Is there a kitchen on site?
Yes. INTOOIT is equipped with a small yet adequately appointed kitchen including a large, modern refrigerator for you to store your perishable goods. Shelving can be adjusted to accommodate larger items.
9) What if I need to cancel?
We understand that, sometimes, things come up. If you have confirmed your reservation with INTOOIT and need to cancel for any reason, we are happy to arrange for a new date/time that suits you, subject to availability. Deposits will not be refunded in the event that you do not reschedule your party. Our cancellation policy is one that ensures you have full access our space at your convenience, once your deposit has been paid, while also ensuring we are able to consistently provide a reliable, quality service to all clients. Your deposit will be refunded to you electronically upon the conclusion of your party or event, once your reservation has been paid for in full, so long as the terms of your rental contract have been honoured.
10) What happens if my party goes on longer than expected?
Because INTOOIT is a children's party venue for hire, concluding your event within the agreed timeframe is important, as we may have additional bookings to accommodate. As a self-catering venue, all set up and removal is required to be carried out by the responsible parties within your allotted reservation, meaning time should be allocated as part of your reservation to carry out these tasks. If your party or event goes on longer than expected and there are no other reservations booked, you may extend the duration of your party at an additional rate of €50 per hour.
11) How will my kids be entertained?
INTOOIT offers an array of options to keep your kids engaged and entertained as part of the construction of our space. With 3 distinct play zones along with games and toys, there is something for everyone to find their version of fun. From our spectacular soft play set up, segregated safe space for little ones, projector screen for immersive entertainment, built-in Xbox and PlayStation consoles, supplies for budding artists, and premium integrated sound system we feel positive that we have curated a creative space to tap into your child's wildest imagination.
12) Are there monitors to look after the children?
Monitors are not supplied as part of securing your reservation at INTOOIT. We have created a kid's party venue that is as safe as possible for your children with padded walls and surfaces, no sharp edges, locking entry, and modified water closet facilities, all of which are rigorously cleaned between each booking. Rental contract holders are ultimately responsible for overseeing the safety of the party guests they have invited, appointing any monitors should they see fit.
13) Are outside food and beverages allowed?
Hosting a successful children's party is almost impossible without fuelling the bodies in attendance for their play. For this reason, outside food and drink is permitted through any catering service you choose to hire. Save for what is being served to your guests as part of the event's food and beverage selection, we ask that no additional provisions are brought into the venue. Respecting this rule protects your guests, and our clients, who may have special dietary needs or allergies which may have otherwise been considered when planning the party menu.
If your party meal will be catered by any business on our partnerships list, please be sure to speak with them about their use of ingredients on behalf of any children in attendance who may have special dietary requirements.
14) Can my kids bring any toys or games?
We feel confident about the selection of toys and games offered at INTOOIT, with mindful variations and early childhood development at heart, but we do understand the need for comfort items. If your child is one who can't leave home without their travel teddy, special blanket, or favourite car, we ask that you label these items before arrival, so they are sure to find their way home with you in the event they become misplaced. Intooit cannot be held responsible for lost or damaged items brought from home.
15) Who is responsible for clean up?
At INTOOIT, clients are expected to set up, remove and dispose of any decorations and preparations that have been brought in to customise their event. This includes disposable cutlery and dishware, tapestries and tablecloths, balloons, and larger items as well as any general rubbish. Intooit is happy to supply bin bags for your convenience. Bins for disposal are easy to access and are located within the central area of nearby parking. We employ an additional cleaning team who is responsible for wiping and disinfecting all surfaces, any deeper and more detailed cleaning that may be required, as well as tidying. Maintaining the cleanliness of our kid's club is a task we take pride in.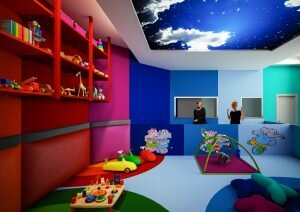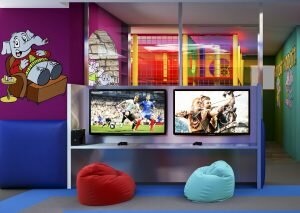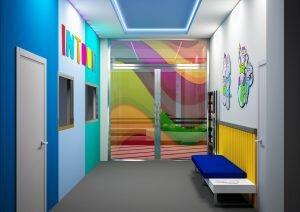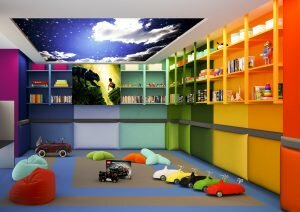 HOW TO FIND US
Centro Commercial Cristamar, 26, 27, 1st floor, Puerto Banus (above Goyo cafeteria)
Opening hours: We are open Monday – Saturday for private parties.*
To book yours, call us at +34 607 33 55 77, or email us at Intooitkidsclub@gmail.com
* Subject to local and national holidays